Full of anticipation and a suitcase full of expectations, I made my way to the train station in Heidenheim. There I was warmly welcomed by my boss and some future colleagues. After a short greeting, our relaxed car ride began in the direction of Heilbronn, the place where our adventure was to take place.
Our hotel was already waiting for us and offered a cozy atmosphere in which one instantly felt at home. But there was little time to rest, because the program was filled to the brim with exciting activities. Our first stop took us to the scenic vineyards around Heilbronn. A wine tasting and a ride in a covered wagon followed by dinner brought us closer to the diversity of local wines and left nothing to be desired in terms of culinary delights.
Besides the vineyards, we also had the chance to visit production at Audi in Neckarsulm. It was fascinating to see how complex processes run smoothly and high-performance vehicles are created, especially because my future work will be so closely related to these processes.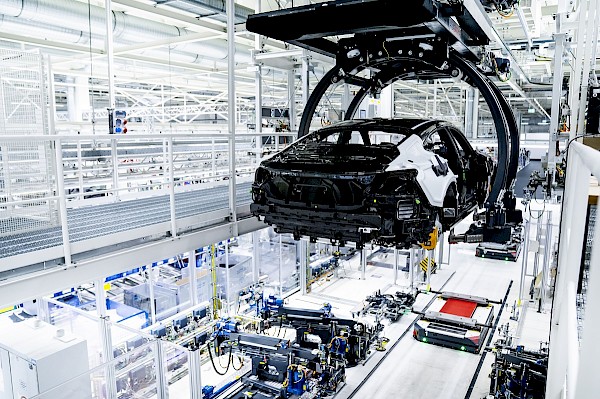 An exciting experience awaited us the next day in Heilbronn's downtown: an outdoor escape room game in which we went on a manhunt armed with tablets. In bright sunshine, we solved tricky puzzles that required teamwork and creative thinking. By the way, we also got to know the city of Heilbronn. Definitely one of my highlights.
In the evening, it got cultural and we went to the Heilbronn City Theater, where "The Physicists" was performed. Talented actors and a captivating staging made for a great atmosphere. It was another experience that I will not soon forget.
On the third day, we were then able to visit the Experimenta. Here we were allowed to quench our curiosity and get hands-on ourselves. From interactive experiments to fascinating shows, there was something for everyone. Education and fun went hand in hand.
To round off our Summer Encounter, we took a Segway tour of Heilbronn. It was a wonderful opportunity to explore the city, enjoy the fresh air and laugh together once again before we headed back home.
My conclusion: The Summer Encounter was an incredible experience. Not only did I meet many colleagues, but I also saw and learned a lot of new things. The mix of culture, action and teamwork made this trip special. But if I had to choose a favorite, it is definitely the theater. The performance of "The Physicists" completely captivated me.
It was a summer adventure that I would not want to miss. Until next time, when I can tell you about more adventures with the cip-alpha crew. Cheers!
Yours Ingo Taag