During my almost seven months in the cip team, I was able to participate in joint activities at an early age. Adventures and experiences that always create a laugh among colleagues are always there.
When our summer meeting was about to take place, I was curious to see what our management had come up with. Here was conjured out of the hat in the finest manner!
Our trip took us to Rust im Breisgau with detours to Freiburg and to Switzerland to Basel. I would like to tell you about the three most beautiful experiences in my opinion:
Scavenger hunt through Freiburg – SCHAFSTOUR
The motto of the organizer: Without SHEEP, no friendship, no community and no passion!
Our hunt led us in a creative way through the streets and green spaces of Freiburg. "Pour water into a bicycle", "spin hidden cranks", "eavesdrop on mysterious cubes" – these are just a few of the messes we had to tackle as a team. Due to the challenging riddles and partly curious tasks we all quickly got stuck in the neck and provided for odd situations with onlookers. Attractions such as the Münsterplatz, the Martinstor and the Victory Monument could be found and marveled at.
A completely different way of dealing with the environment! Haggling and consulting with colleagues was a new experience of collaboration and makes us more accessible to each other in addition to our daily work. Finish with food, drink and hearty laughter.
Festival Breisach – "Die lustigen Weiber von Windsor"
I was never really a theatre-goer and besides the "master detective Kalle Blomquist" I could only gain something from acting as a boy.
I was all the more surprised at the Breisach Festival and the modern adaptation of Shakespeare's "The Funny Women of Windsor" – there was no one who could hold their seats! Frau Zügig (played by Alexandra Laureant) caused the crowd to rage and radiated as a "housekeeper who raped foreign words" with a power of expression I had never encountered before.
Exaggerated, cynical and dry English humor paired with the impressive performers on the open-air stage – an atmosphere that you simply have to experience. My initial expectations and attitude towards theatre were blown away by this experience. I am looking forward to my next visit to the theatre!
The crowning finale was an enchanting fireworks display in the Breisach night sky.
Museum Tinguely – Art that moves!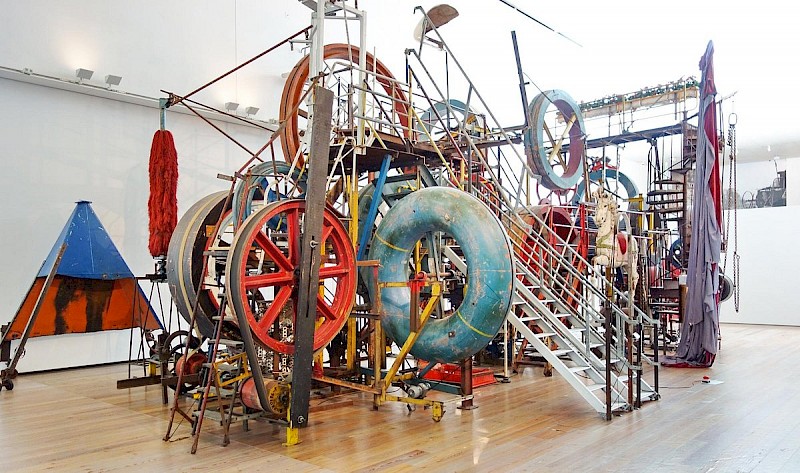 Apart from the Heinz-Nixdorf-Museum in Paderborn or the Computing History Museum in Cambridge, museum visits as such, let alone on the subject of art, did not exist for me. Art and the accompanying, creative-abstract creative processes of creation have always raised the question "why?" in the brain of IT professionals. After our visit to Museum Tinguely, I now have an answer: Why!
But let me explain. For many like me, art in the imagination is something rigid and aesthetically beautiful, which you hang on the wall as a painting and watch devoutly for hours with a pipe and a monocle. Too fancy and not desirable for me. That's why I went to the exhibition with mixed feelings. In addition to Jean Tinguely's biography, to which I would have to dedicate at least one article of my own, the heart of the exhibition was his then and still revolutionary work of moving and non-moving art for everyone. Movable and walkable objects, each component of a work tells its own story. Never before have I been allowed to perceive and touch mechanics or technology in such a form. I was not the only one who felt the visit as an extension of the understanding of art and its influence. Afterwards, we took a guided tour of Basel and marveled at Tinguely's tracks and works on the open road.
All in all, our summer encounter was a wild ride through various activities, places and times. Particularly due to the previous pandemic conditions and the general increase in home office space, I got the feeling that we as a society are missing out on a lot of social and interpersonal issues, which makes it difficult to maintain a good corporate culture. With our encounters we create a big stage and come closer in spite of everything. Being able to understand and comprehend each other is something I really appreciate and it drastically simplifies communication processes.
Colleagues simply become friends, you learn to support yourself and rely on others. I feel that even after my short time at cip we are all much closer together as a team.
I am very much looking forward to our future encounters!